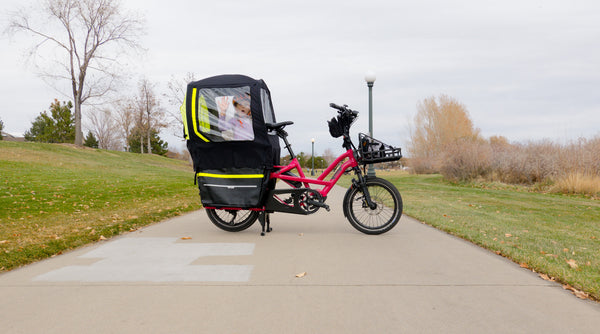 Tern continues to redefine what a bike is capable of as we introduce new accessories for the updated Tern GSD Gen 2 cargo bike. These accessories will expand your GSD capabilities and will keep your kids and cargo warm and dry year-round.
After using the various accessories for a couple of months now with a 2 & 5-year old, I wanted to give you more detail on their benefits and ways I could see them being used together. At the bottom of this article, you can find a video of all these parts in use, along with the most updated availability we have. 
Clubhouse+
MSRP: $220 USD / $300 CAD 
Includes: Hardware, two seat pads, velcro straps to attach the pads to the frame, a rear backrest, and two different bars for the back of the Clubhouse+. One bar is straight to be used with the seat pad backrest. The second bar is an "expansion bar" which is curved and used with a Yepp seat to allow for the seat to be positioned in the rear.

This seating setup is very useful if you want either 2 Yepp seats within a Clubhouse+ bar system OR want a larger child in the front and the Yepp seat in the back. The latter is probably the most common use case, such as when you have a child between 2-3.5 and need them contained for various reasons (safety, sleeping, size, etc.)
The new Clubhouse+ also comes apart for flat packing and storing. This is great for shipping and also great for in-store or garage storage!
Compatibility: The Clubhouse+ is compatible with both GSD generations.
Sidekick Wide Decks
MSRP: $120 USD / $160 CAD
Includes: Two wide decks and necessary hardware
The new Tern GSD Gen 2 now has Integrated Lower Decks but is a bit narrow if you are using Cargo Hold 52 bags or the new Storm Box listed below. The Sidekick Wide Decks provide a larger surface of 4.7" for feet or cargo to rest on, and have slots available to attach cargo to them or secure the Storm Box properly. 
Compatibility: The Sidekick Wide Decks are not compatible with the GSD Gen 1. 
Storm Box 
MSRP: $220 USD / $300 CAD
Includes: Storm Box, Cargo Lid and Kid Lid
Required additional parts: Clubhouse+ and Sidekick Wide Decks (I would also recommend the Lockstand extensions mentioned below)
The Storm Box, with cargo lid and kid lid add weather protection from the Clubhouse+ down. The included kid lid, which is removable, pulls up and adds weather protection around a kid's body and shoulders. The included cargo lid pulls over the Clubhouse and Storm Box to create a large weather-protected storage system. It is worth noting that the Clubhouse+ and the new Sidekick Wide Decks are required to work with the Storm Box properly.
For detailed compatibility for the Storm Box look below. I'll also be putting out another article on the Storm Box vs Cargo Hold 52 Panniers soon, let me know what questions you have!
Storm Shield
MSRP: $220 USD / $300 CAD
Includes: Storm Shield cover, and 2 fiberglass poles for roof

The new Storm Shield adds a roof and side windows to protect your children in the elements. Quick zippers provide easy access and roll up the windows for nicer days. There is an internal pocket in the front for snacks or toys, and great visibility built into the Storm Shield.
A few other notes I want to add here after testing it pretty hard this winter so far: 
1. I'm still working on testing it out with bigger size kids (a bit difficult due to COVID), but my kids fit in with plenty of headroom. My guesstimate would be kids up to 8 or 9 can fit depending on their height. 
2. I'm working through what a comfortable max seat height will be using this Storm Shield. By design, the new Easy-Step geometry pushes your saddle back as you raise the seat height. This also pushes into the Storm Shield window some. I have a seat height of 29" and feel comfortable with the push into the window, but 2-4" higher may cause premature wear on the shield window.
Compatibility: The Storm Shield is compatible with the new Clubhouse + on Gen 2 bikes only or the original Clubhouse on the Gen 1 bike. See below for more details on this.
Clubhouse Fort - a system made of multiple parts
If you put together the accessories of Storm Shield, Storm Box, Clubhouse+, and Sidekick Wide Decks you can build yourself the Clubhouse Fort. This is a system to help keep your human cargo warm and dry. While it isn't required, I do recommend the Lockstand Extensions below for this system to work the best.
Lockstand Extensions

MSRP: $30 USD / $45 CAD
Includes: Two Lockstand Extensions

These new extensions for the new Atlas Lockstand create a wider stance under the bike and make it easier for you to engage the kickstand under the bike. I highly suggest these if you have Cargo Hold bags, Sidekick Wide Decks, or anything else adding width to your GSD.
Cargo Lid Lock
MSRP: $30 USD / $45 CAD
Includes: Cable 4.8 mm x 2500 mm, and Combination Lock
This specially designed cable combo lock designed to fit through your cargo lid and around the Clubhouse+ adds a cable lock to your Cargo Lid for some additional protection.
Compatibility of Parts New Accessories with GSD Gen 1
Tern support pages has a great FAQ sheet on what we consider the accessories to be compatible with, meaning what they were designed to work with. Some accessories may work with some "hacks" but not designed specifically to work together.
Q: Can I install the Storm Shield on my GSD Gen 1 equipped with the new Clubhouse+?
A: No. The Storm Shield is only compatible with the GSD Gen 1 equipped with the Clubhouse (Gen 1).
Additional background from Tern NA: the new Clubhouse+ sits closer under the seat of the GSD Gen 1 and does not have enough room for the Storm Shield as you can see in the picture above. The original Clubhouse doesn't come under the seat as far.
Q: Instead of using panniers to cover my kids' legs, can I install the Storm Box on my GSD Gen 1?
A: No. The Storm Box is not compatible with the GSD Gen 1.
Additional background from Tern NA: The seat tube of the Gen 1 bikes is more upright, bringing the Storm Box closer to the cranks and pedals. The Storm Box can then interfere with a rider's feet. There may be personal hacks people feel comfortable doing but we do not recommend this.
Q: Why doesn't the Storm Shield work with a Clubhouse+ on a GSD Gen 1? And why doesn't the Storm Box work with the Clubhouse/Clubhouse+ on a GSD Gen 1?
A: We work very hard to make new accessories backwards compatible with existing bikes. But when you optimize for a new bike, backwards compatibility can be impossible to maintain.
The GSD Gen 2 rack is longer than the Gen 1 rack by about 2.3". The Clubhouse+ is also longer and wider than the Clubhouse. For the Storm Shield, this means that installing it on a GSD Gen 1 with the Clubhouse+ results in a series of clearance issues (especially for taller riders) and may compromise basic functionalities like opening/closing the rollup windows, or even damage the accessory. For the Storm Box this also means clearance issues, with the added problems that the frame design of the Gen 1 prevents correct installation, and that the resulting setup is too loose to stay securely in place.
If an accessory does not have full functionality, we consider it not compatible. However, there may be hacks that allow compromised functionality and could work for some riders or use cases.
Video of Tern GSD Gen 2 Accessories In Use

Availability for New Tern GSD Accessories
At the time of writing this, we expect to receive these in early Q1 of 2021. Due to major shipping demands, it is very hard to provide exact dates but these accessories are on their way. If you are a consumer, reach out to your local Tern dealer to get your products on order ASAP!
Find Your Local Tern Dealer
I hope this helped you plan your new accessories! Nothing can replace trying them out first hand with local Tern experts at your bike shop, and we always recommend professional installation. Contact your local Tern dealer to get on their list to know when bikes and accessories arrive to test out first hand! 
Next Articles
Our team is working on a lot of content around the new GSD bikes and accessories to launch in early 2021. If you have specific questions, please email me directly arleigh.greenwald at ternbicycles.com.